Thailand has seen rapid development in its technology startups landscape in recent years, with fintech and e-commerce seeing the largest growth across all sectors.
The need for digital solutions became more pressing when the COVID-19 pandemic hit, and the fintech startup landscape in Thailand saw surging investor interest and a greater scope.
The government has looked to digital technology to bolster the country's economic growth, and fintech startups are important for upgrading small and medium sized enterprises (SMEs).
In the Southeast Asian region, 66% of companies are increasing their spending on new technologies, and fintech is expected to be a game-changer for Thailand's SMEs.
To date, there are two unicorn fintech startups in Thailand: Ascend Money, an e-finance system for businesses and underbanked consumers, and Bitkub, a cryptocurrency exchange platform.
What does the future of financial technology in Thailand look like? We explore how fintech startups can leverage new technologies to support other industries in Thailand, and opportunities for investors looking at the country's fintech landscape.
Growing the Fintech Market Size in Thailand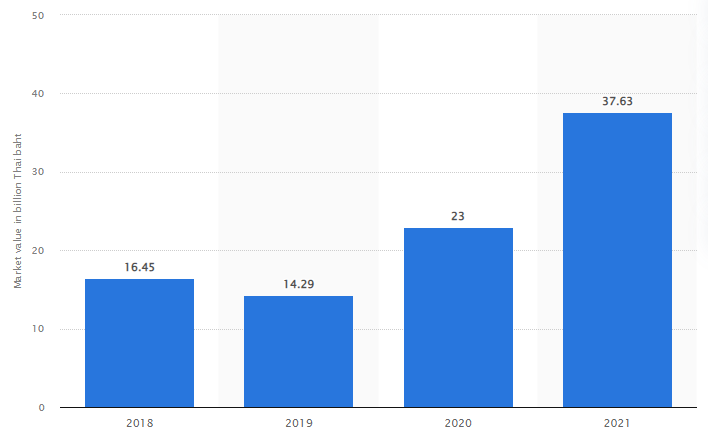 Source: Statista.com
The government's digital transformation roadmap accelerated in 2017, with local banks playing a vital role in supporting the fintech startups in Thailand. Kasikornbank, a local banking group, established the Kasikorn Business-Technology Group (KBTG) to drive support for startups by collaborating with technology players to work on mobile banking and artificial intelligence (AI) projects.
In 2020, Siam Commercial Bank (SCB) also established SCB10X, a venture capital arm focusing on fintech and other technology investments.
Digital payments is the largest segment in Thailand's fintech landscape, with an estimated total transaction value of 29.13 billion US dollars this year. The number of users is expected to reach 46.10 million in five years. Another promising segment, neobanking, is expected to grow its revenue by up to 39.1% in 2023.
Digital lending has also become increasingly important to boost financial inclusion in Thailand. The FINNIX mobile app, which is regulated by the Bank of Thailand, offers 24/7 micro-financing services through a purely digital process from application to approval and disbursement.
FINNIX has adopted AI to check biometric requirements to support Thailand's underbanked population, allowing them to verify their identities to easily apply for loans.
Looking Ahead
Fintech startups in Thailand can look into offering more from the financial services value chain, especially as the country's key industries continue to adopt AI, cloud computing, Internet of Things (IOT), and other innovations.
Enabling investments that increase the competitiveness of local sectors, especially SMEs, will allow fintech companies to expand their service offerings and strengthen their capacity as an alternative source of funds for unbanked and underbanked consumers.
Opportunities in B2B fintech can also be leveraged to expand a startup's market to a regional or global level. This can be done by harnessing backend infrastructure and offering services that can support bank operations, such as data management and information security.
This can also help fintech startups in Thailand reach unicorn status. With financial inclusion becoming increasingly important and cross-border transactions being pushed in Thailand, there are many opportunities for fintech startups to lead the market and achieve more in 2023.